Case study: Robin Coningham
Programme: Cities & Infrastructure Programme 2017
Award-holder: Professor Robin Coningham, University of Durham
Project title: Reducing Disaster Risk to Life and Livelihoods by Evaluating the Seismic Safety of Kathmandu's Historic Urban Infrastructure
This project has helped to improve the seismic safety of Kathmandu's historic urban infrastructure, while preserving the authenticity of monuments and contributing to local livelihoods.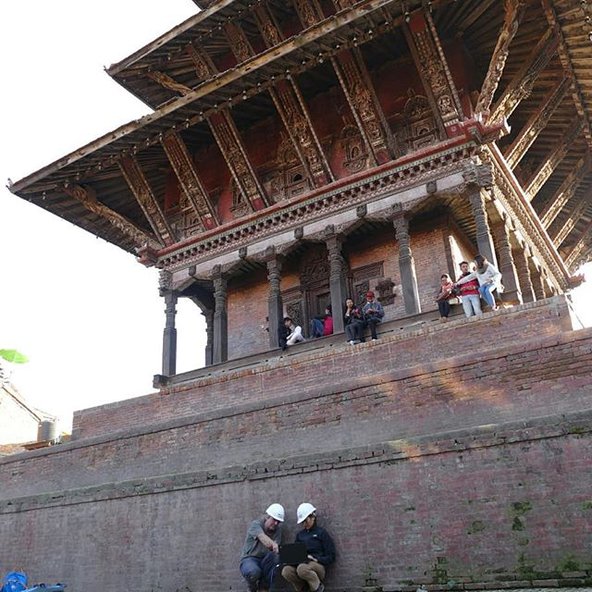 Kathmandu's medieval cities are exceptional architectural and artistic achievements but also form part of the fabric of everyday urban life. The 2015 Gorkha Earthquake was a humanitarian disaster that caused 9000 fatalities and changed Kathmandu's iconic skyline in seconds, with 403 monuments damaged across its UNESCO World Heritage Site. Representing a key component of tourism in Nepal, and generating 7.6% of the country's GDP, their safe rehabilitation is key to reducing risk to lives and livelihoods, and thus a necessary step towards the attainment of the UN's Sustainable Development Goals 8 and 11.
While overseas development aid was quickly pledged for reconstruction, few questions were asked about why the monuments had collapsed in the first place. The predominant approach to risk reduction was to demolish the historic monuments which were damaged and to rebuild them with modern materials. This not only threatens their authenticity but also removes signs of the resilience of traditional seismic adaptation in the Kathmandu Valley. With no definitive evidence of whether modern materials are more resilient, local communities and craftspeople are frequently excluded from decision-making while the risk to them, and their livelihoods, remains.
Building on north-south partnerships, the research team integrated archaeology with 3D visualisation, geotechnical and structural engineering, as well as architectural studies and community engagement to co-produce, pilot and disseminate novel methodologies to enhance the seismic safety of Kathmandu's historic urban infrastructure. Analysing soil profiles and monument foundations, and their interlinkages with superstructures, the researchers were able to identify why selected monuments had collapsed during the 2015 earthquake and how they could be designed anew, drawing on traditional methods, to preserve their intangible value while minimising future earthquake effects.
The project has had multiple and far-reaching positive effects, in terms of reconstruction, policymaking, and the everyday lives of Kathmandu's residents. The research findings have fed directly into efforts to re-build Kathmandu's emblematic site, the Kasthamandap, which collapsed in the 2015 Gorkha Earthquake. The team is working with the Kasthamandap Reconstruction Committee to develop a schedule of restoration, by identifying those monuments most urgently at risk, and to establish the best ways to repair the monuments and protect them from future seismic activity. This has important implications for local tourism and livelihoods. The project has also high policy value, as it provides engineering validation for traditional construction techniques, and evidence that reconstruction can effectively use vernacular forms. This directly addresses a significant concern expressed by the International Council on Monuments and Sites (ICOMOS) that authenticity in Kathmandu is unnecessarily being destroyed, and intangible value disrupted by the ways in which restoration work and international disaster relief efforts are being usually implemented.
The Kasthamandap is an example of how interdisciplinary study and community engagement can lead to successful and meaningful authentic rehabilitation of Kathmandu's historic infrastructure. The team's work has also directly contributed to enhancing the Government of Nepal's existing conservation guidelines, which now provide for archaeological watching briefs and the involvement of archaeological investigations prior to, and during, reconstruction. In addition, the project has funded the inaugural exhibition at the earthquake museum in Kathmandu, which showcased the disruption caused to people's lives in 2015 as well as best practice in seismic safety based on the project findings. The exhibition was opened by the President of Nepal in April 2018 and was visited by over 100,000 international visitors and 40,000 local people in its first few months. So far, the visitors have contributed the equivalent of approximately £740,000, which is more than double the research grant provided by the British Academy.
Sign up to our email newsletters