Professor Fiona Williams FBA
Gender, 'race' and ethnicity in social policy; migrant care workers and the transnational political economy of care; the place of care in contemporary society; welfare state futures
Elected 2016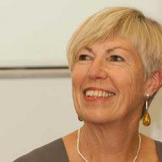 Fiona Williams is an Emeritus Professor of Social Policy, University of Leeds. Her roles at Leeds included Director of the ESRC CAVA Research Group on Care, Values and the Future of Welfare.
Fiona is a Fellow of the British Academy of Social Sciences, a Fellow of the Academy for the Social Sciences, and a Fellow of the RSA. In 2004 Fiona was awarded an OBE for services to social policy.
Fiona's publications have for many years been central to developing critical approaches to social policy. Her latest book Social Policy. A Critical and Intersectional Analysis (Polity, 2021) brings the global crises of care, climate change, and racialized borders to bear on an understanding of social policy.
Until 2014 Fiona was co-editor of Social Politics, International Studies in Gender, State and Society, and is now one of its trustees. Fiona is the Social Sciences editor for the Journal of the British Academy.
Current post
Emeritus Professor of Social Policy, University of Leeds
Research Associate, Centre on Migration, Policy and Society, University of Oxford
Honorary Professor, Social Policy Research Centre, University of New South Wales, Australia
Sign up to our email newsletters