Summer Showcase 2018 exhibits
Our first Summer Showcase was a free festival of ideas for curious minds, held from 22-23 June 2018.
We opened up our beautiful building to 15 exhibits consisting of text panels, interactive elements and audio-visual displays, all created by the academics we fund. You can find out more about the researchers and their exhibits below.
Was the 2011 Syrian uprising an agrarian revolt?
Until the mid-2000s, the livelihoods of around 50% of Syria's population depended on farming. Yet by 2011, drought and failed agricultural policies resulted in just 10% being able to make a living from the land.
With many seeing rural underemployment as a trigger for the 2011 Syrian uprising, it is clear that agriculture is essential to sustainable livelihoods in the Middle East. However, agriculture also represents one of the most significant threats to the archaeology and natural heritage of the Middle East.
Dr Jennie Bradbury, University of Oxford
Dr Philip Proudfoot, Northumbria University/CBRL British Institute
Research Award: CBRL Research Fellow.
How can medieval studies contribute to the scientific debate on the existence of Planet Nine?
Before and After Halley explores, for the first time, how medieval records of comets can be used to test the theory that our solar system may include an additional, undiscovered planet: Planet Nine. Combining the skills of a medievalist and an astronomer, this exhibit challenges the assumption that early medieval scientific thought was simple and undeserving of serious scientific investigation.
Dr Marilina Cesario, Queen's University Belfast
Dr Pedro Lacerda, Queen's University Belfast
Research Award: APEX Award 2017.
What happens to our bodies when we play music?
Making music, whether vocal or instrumental, is a physical act usually undertaken with others. However, relatively little is known about how performers coordinate and how this is manifested in the body. The Breath of Music investigates respiration and heart rate data from Indian instrumental performers with the aim of discovering how these signals relate to musical structure and coordination between musicians. Drop in to test your own musical abilities and find out how musicians from different cultures and musical traditions coordinate their behaviour while performing.
Professor Martin Clayton, Durham University
Research Award: British Academy / Leverhulme Small Research Grant 2016.
What do we really know about African art in European museums?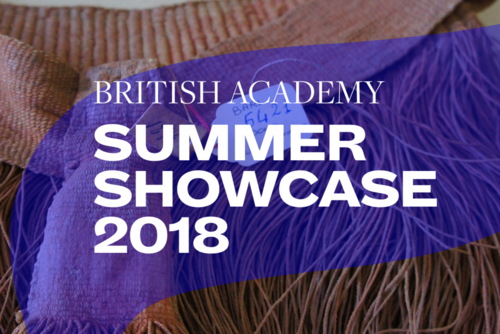 In the nineteenth century, Europeans began to travel to the territory of what is now South Sudan. They returned with over twenty thousand objects, which were deposited in museums across Europe and almost forgotten. Zoe Cormack's research focuses on the items brought back by Italian traders and explorers. In collaboration with South Sudanese partners, she has retraced the routes of these objects and rediscovered thousands of treasures from South Sudan in Italian museums.
Dr Zoe Cormack, University of Oxford
Research Award: Postdoctoral Research Associate at The British Institute in Eastern Africa; Rome Fellow at the British School at Rome.
Musical archives: What goes in, and what is left out?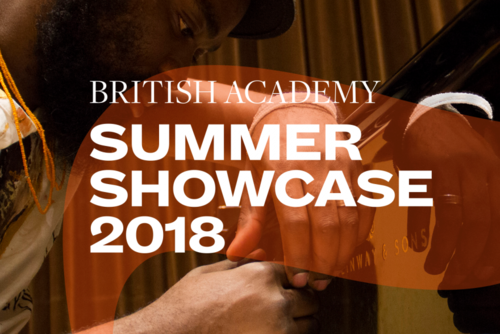 Various efforts to document, categorise and archive jazz music in South Africa have been made in recent years. While this work is essential, there have been few opportunities for the South African jazz community to explore and respond to these initiatives. Bringing together leading musicians and scholars, Jonathan Eato and Stephanus Muller's research seeks to address this gap, and examine South Africa's musical heritage from a range of different perspectives.
Their exhibit will be accompanied by live performances from award-winning South African jazz pianist Nduduzo Makhathini.
Dr Jonathan Eato, University of York
Professor Stephanus Muller, Stellenbosch University
Nduduzo Makhathini, University of Fort Hare
Research Award: Newton Advanced Fellowship Grant 2015.
What do you remember about reading novels at school?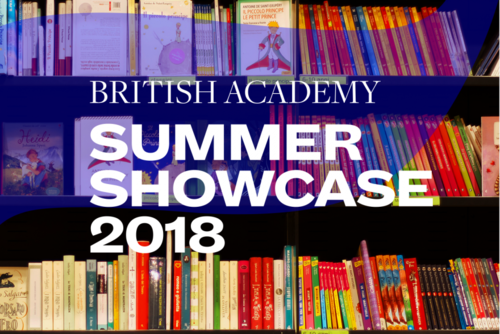 Most people remember 'reading round the class,' where students join in or share reading of a book under the guidance of a teacher. But does it really work? Drawing on memories and interviews with teachers and students, John Gordon invites visitors to take part in shared reading activities and asks how we can nurture lasting pleasure and interest in reading beyond school.
Dr John Gordon, University of East Anglia
Research Award: British Academy Mid-Career Fellow 2016.
What can our ancestors teach us about sleeping well?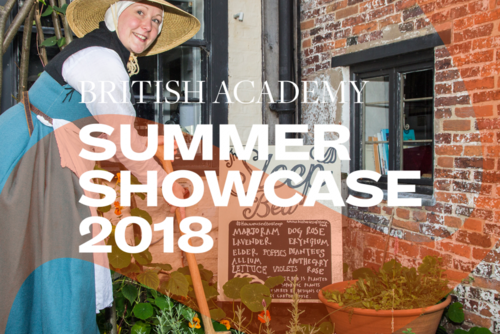 Sleep in Early Modern England is the first in-depth investigation of the history of sleep. It reveals how our ancestors approached bedtime, the fascinating rituals that bookended sleep, and the powerful religious motivations that fuelled the pursuit of a good night's rest. Join Sasha Handley to make your own scent bag, sample some of the smells from a seventeenth century bedchamber and find out how historic sleep patterns may help us to get a more restful night's sleep today.
Professor Sasha Handley, University of Manchester
Research Award: British Academy Mid-Career Fellow.
How can people live safely in coastal areas under conditions of climate change?
Flooding is a regular part of life for the people in tropical river deltas, yet climate change and growing infrastructure needs have increased the risk of serious incidents. This has produced complexity and uncertainty in responding to development challenges. Innovative solutions for knowledge co-production and sharing are required that benefit a large diversity of stakeholders. Drop in to engage with an interactive model of a river basin and animated children stories to find out how research involves communities and other stakeholders in disaster management.
Dr Oliver Hensengerth, Northumbria University
Research Award: Newton Mobility Grant 2015.
Is 3D cinema only good for spectacle and novelty, or can it do more?
Digital 3D cinema is often dismissed as a gimmick, but this overlooks its historical and cultural significance. In his exhibit, Nick Jones reassesses its importance and shares his research on the history of 3D, from Victorian stereoscopes to cutting-edge VR headsets. In addition to enhancing our understanding of digital cinema, 3D is also crucial to understanding today's wider landscape of digital technologies – including pervasive digital surveillance and the phenomenon of big data. Drop in to learn more about 3D and try a VR headset to see the world in a different way.
Dr Nick Jones, University of York
Research Award: British Academy Postdoctoral Fellow 2015.
Is working at home the key to equality for women?
Today, over 4 million people in the UK – including many mothers – regularly work from home. These Four Walls, a collaboration between Helen McCarthy and Leonora Saunders, explores the different meanings of home-based work for women in Britain over the past century through an exciting fusion of portrait photography and cutting-edge historical research.
Dr Helen McCarthy, Queen Mary University of London
Research Award: British Academy Mid-Career Fellow 2017-8.
Why would you deliberately design a disabled artificial limb?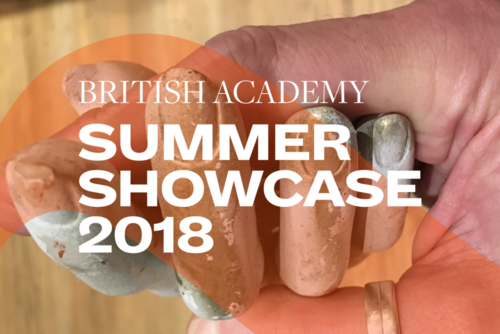 Hands are one of the most expressive parts of the body, yet prosthetic models tend to be thought of in purely functional terms. To challenge this way of thinking, Stuart Murray and team have deliberately constructed artificial hands. They invite you to interact with the hands and explore the relationship between disability design and the use of prosthetics. Will thinking about hands as tools to express emotion help to improve assistive technologies for those with disabilities?
Professor Stuart Murray, University of Leeds
Research Award: APEX Award 2017.
Are the Armed Forces diverse enough?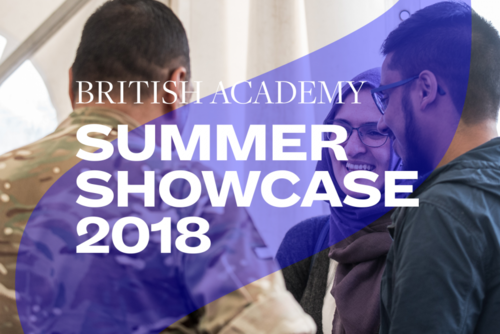 Of the 3 million Muslims living in the UK today, it is estimated that only 550 serve in the British Armed Forces. Asma Mustafa's exhibit examines why so few young Muslims consider a career in the Armed Forces, particularly given the Ministry of Defence's drive to improve the diversity of its personnel, and high unemployment among British Muslims.
Dr Asma Mustafa, University of Oxford
Research Award: British Academy / Leverhulme Small Research Grant 2014.
How does your appearance reflect your lifestyle habits?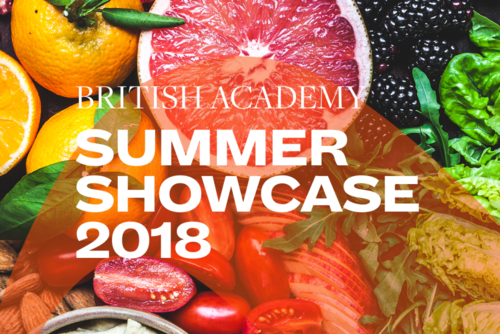 High profile campaigns urge us to stop smoking, drink less and eat our '5-a-day'. Yet health information alone does not seem to encourage us to adopt a healthier lifestyle. David Perrett and colleagues at St Andrews explore a new idea to improve our health – by appealing to our vanity. Their exhibit includes surprising facts and interactive displays to show how diet, exercise and lifestyle habits can improve our appearance, and even affect how others see us.
Professor David Perrett FBA, University of St Andrews
Research Award: British Academy/Wolfson Research Professorship 2009-12.
What does the history of masking tell us about youth, politics and insecurity in Nigeria?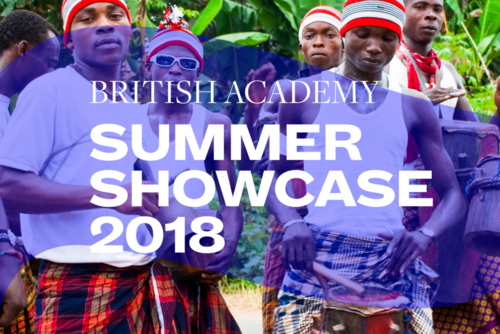 David Pratten gives an insight into the lives of the Agaba masquerade based in the Niger Delta region. His exhibit tells a story about members' masquerade traditions, and why they continue to flourish today. While these masquerade performances – which feature music, carved masks and bold dance styles – are striking, the songs are witty laments that reflect on the insecurity of life for these young men, and offer a critique of politics and the economic system in Nigeria.
Dr David Pratten, University of Oxford
Research Award: British Academy / Leverhulme Small Research Grant 2014.
How has America been depicted in videogames?
John Wills's research explores depictions of America in popular videogames from the 1970s onwards, focusing on 'Wild West' titles such as The Oregon Trail (1971), an educational adventure used to teach the history of the frontier, as well as games based on the modern American city, such as LA Noire (2011).
Dr John Wills, University of Kent
Research Award: British Academy / Leverhulme Small Research Grant 2016.
Sign up to our email newsletters