Addressing digital poverty is central to the fight against inequality
by Dr Alex Mankoo
23 Nov 2022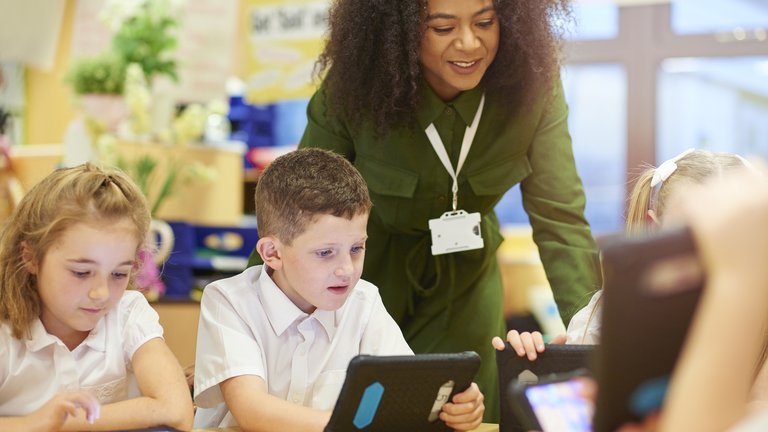 The scale and speed of the digital transformation of society in the last 25 years is striking: in 1998, less than 10% of British households had home internet access – by 2020 that percentage was at 96%. But despite the proliferation and integration of digital technologies over the past decades, the benefits of these changes have not been distributed equally. Recent data from Lloyds Bank show that 72% of those earning under £13,499 have Foundation Level digital skills compared to 95% of those earning between £30,000 - £39,999.
The COVID-19 pandemic exacerbated these inequalities: groups that were already disadvantaged prior to the pandemic (particularly those from lower socioeconomic backgrounds), people with disabilities, and those with precarious or less stable housing tenure, suffered disproportionately more from digital exclusion than their fellow citizens during the pandemic.
Earlier this year, the British Academy commissioned six projects to examine different aspects of digital poverty across the UK. Our report, 'Understanding Digital Poverty and Inequality in the UK', summarises the findings that emerged and identifies six lessons to shape policy thinking on how to effectively address digital poverty and its impacts across the UK.
As with the Academy's report on the long-term societal impacts of COVID-19, we used three overarching dimensions to think about effective policy responses: place, scale and time.
Understanding how digital poverty varies from place to place – with geography, infrastructure, communities and local resources – is crucial to addressing it. As one might expect, digital poverty is felt differently in rural and urban places. However, despite perceptions of cities as places that provide more access to digital infrastructures and to more advanced technologies, evidence indicates that families living in urban areas during the pandemic were more likely to be digitally disadvantaged, possibly due to the higher cost of living in towns and cities than rural areas. In contrast, digital exclusion in rural areas is often due to the variability in access to, and distribution of, technological infrastructure and barriers to digital inclusion related to geographical features.
Analysis published in 2021 from the County Councils Network showed that while 77% of London has access to gigabit broadband, the corresponding number for county areas is merely 21%. These figures highlight how digital poverty emerges in different ways in urban and rural contexts. Consequently, we should not look to "one size fits all" solutions.
Whether it is the 100% Digital Leeds initiative aiming to strengthen – in co-operation with third sector, public sector, health and care partners – digital inclusion infrastructure in Leeds or the Mobile Age project in rural Cumbria helping older adults access digital resources, policymakers should look to ensure that councils and organisations at a local level have the resources to develop and expand digital outreach schemes.
The public sector plays a vital role in enabling and supporting local resources and infrastructure through coordination, knowledge sharing, and funding (both in terms of provision and enabling access to funding channels).
Digital poverty is associated with deprivation and social inequalities more broadly. Building and maintaining relationships between stakeholders at different levels is essential to monitoring how digital inequalities interact with broader inequalities. These connections provide opportunities to identify who is most at risk of digital poverty and what interventions can benefit them the most.
Take the current cost-of-living crisis. Households across the country are currently suffering from the biggest cost-of-living increases in decades, driven not least by historically high inflation. This will affect people's ability to afford basic services such as broadband, which, in turn, will affect access to employment, healthcare and welfare support as the digitalisation of those services proceeds apace. For example, many councils and housing associations use online systems for social housing allocations, which can put the digitally excluded at risk of missing out on opportunities to access housing.
Strategies to tackle digital poverty are therefore important components of broader policies aimed at tackling inequality, and there are opportunities for tailored initiatives to help the most vulnerable. Findings from one of the projects we supported suggests that the provision of free Wi-Fi in temporary and sheltered accommodation, which could be explored and funded nationally through 'zero-rating' government websites – a means of providing free-of-charge access.
Our report emphasises the need for a long-term vision, in two respects. Firstly, people move in and out of digital poverty over time. This is due to both people's changing social circumstances (for example, financial pressures, precarious housing circumstances) and technological development (as technologies may become outdated, systems may be rendered obsolete, and new skills may be needed to adapt to new systems). It is crucial for policymakers to avoid the assumption that once someone has been 'lifted out' of digital poverty they will remain digitally included for life.
Second, policy interventions must be 'future-proof'. Through consistent long-term investment, we can ensure that policy solutions are adaptable in the face of regional demographic and economic changes. Norfolk County Council's Digital Inclusion Strategy and Roadmap, published in 2021, is a prime example of policymaking that takes the long view. It outlines a five-year plan for developing a range of services and infrastructure including cloud software and digital and internet connectivity.
The UK is widely recognised as being one of the most geographically unequal economies among the OECD and digital inequality is an increasingly important component in this inequality. It is a serious challenge and one that can only be solved with a multifaceted approach. Resourcing partnerships between local authorities and community organisations, understanding where digital poverty sits in the context of broader inequalities from place to place, and building adaptability into long-term policy interventions will all be crucial if we are to support the most marginalised and tackle inequality.
Read the full synthesis report and the Academy's Technology and Inequality work will be collated in a new evidence hub.
---
Dr Alex Mankoo is Senior Policy Adviser at the British Academy.
Sign up to our email newsletters