The COVID Decade
Evidence report
In November 2021, the British Academy, in partnership with the Academy of Medical Sciences, convened a roundtable on geographic and historic patterns of health inequalities in the UK. The roundtable followed a request from the UK government's Scientific Advisory Group for Emergencies (SAGE) in June 2021 to explore the geographic factors associated with historically poorer public health outcomes over the last 200 years.
Historic and Geographic Patterns of Health Inequalities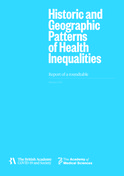 Evidence report
The British Academy was asked by the Government Office for Science to produce an independent review on the long-term societal impacts of COVID-19. This report outlines the evidence across a range of areas, building upon a series of expert reviews, engagement, synthesis and analysis across the SHAPE research community. It shows that COVID-19 has generated a series of social, economic and cultural effects which will have long-term impacts.
The COVID Decade: understanding the long-term societal impacts of COVID-19
Policy report
The British Academy has undertaken the substantial task of beginning to answer the longer-term question about what the societal impacts of COVID-19 will be and how we address them. This report sets out an interrelated set of nine areas of long-term impact, seven strategic policy goals and five key principles of a facilitative policy environment for 2030. We aim here to provide decision-makers with a sense of how to start to respond to these longer-term impacts based on the current evidence, and how to shape the COVID decade.
Shaping the COVID decade: addressing the long-term societal impacts of COVID-19